GIGABYTE GeForce GTX 1050 TI D5 4G, powered by GeForce® GTX 1050 Ti, integrated with 4GB GDDR5 128bit memory, 90mm Fan Design, Support up to 8K display @60Hz, Metal Choke hold energy much longer than common iron-core chokes at high frequency, thus effectively reduce core energy loss and EMI interference.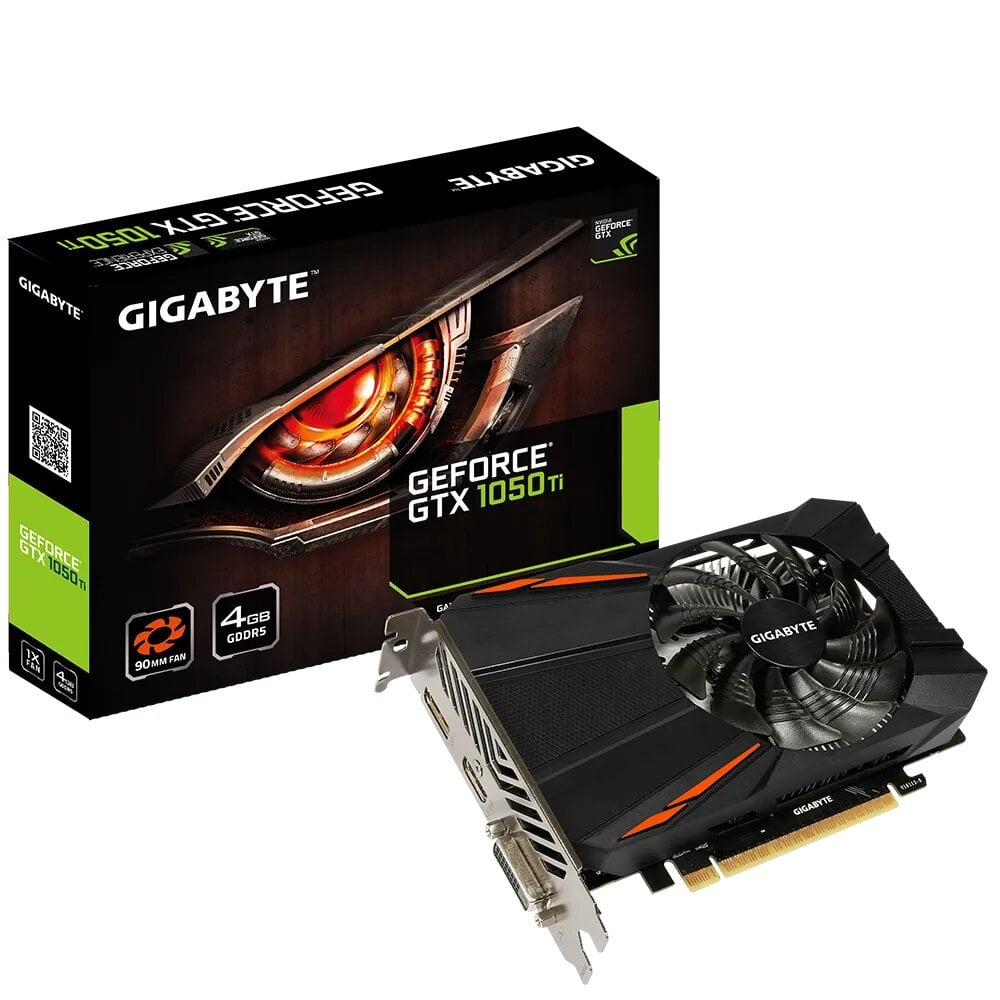 GIGABYTE GeForce GTX 1050 TI D5 4G
 GeForce GTX 1050 Fan is specifically designed to fill the airflow is optimal and the best in terms of cover and aluminum base, where the radiator enables effective heat dissipation from GPU with a fan keeping at the lowest possible speed and less noise.
GeForce GTX 1050 airflow is excavated from the edge of the triangular fan and directs air smoothly by curving the 3D band on the fan surface, effectively enhancing airflow.
GIGABYTE GeForce GTX 1050 Specification
Graphics Processing: GeForce® GTX 1050 Ti
---
 Core Clock:
1430 MHz / Base: 1316 MHz in OC mode
1392 MHz / Base: 1290 MHz in Gaming mode
---
CUDA® Cores: 7‎68
---
Clock:  7‎008 MHz
Size: 4‎ GB
Type: GDDR5
Bus:1‎28 bit
Card Bus:  PCI-E 3.0 x 16
---
Digital max resolution: 7‎680×4320
---
Card size: H=30 L=172 W=113 mm
---
---
DirectX: 1‎2
---
OpenGL:    4‎.5
---
Recommended PSU: 3‎00W
---
Power Connectors:   N/A
Dual-link DVI-D *1
HDMI-2.0b*1 (Max Resolution: 4096×2160 @60 Hz)
 Display Port-1.4 *1 (Max Resolution: 7680×4320 @60 Hz)