ASUS ROG Zephyrus M16 GU603ZW-K8069W Intel Core I9-12900H 1TB SSD 32GB Ram Nvidia GeForce RTX 3070Ti 8GB 16" Inch WQXGA Win.11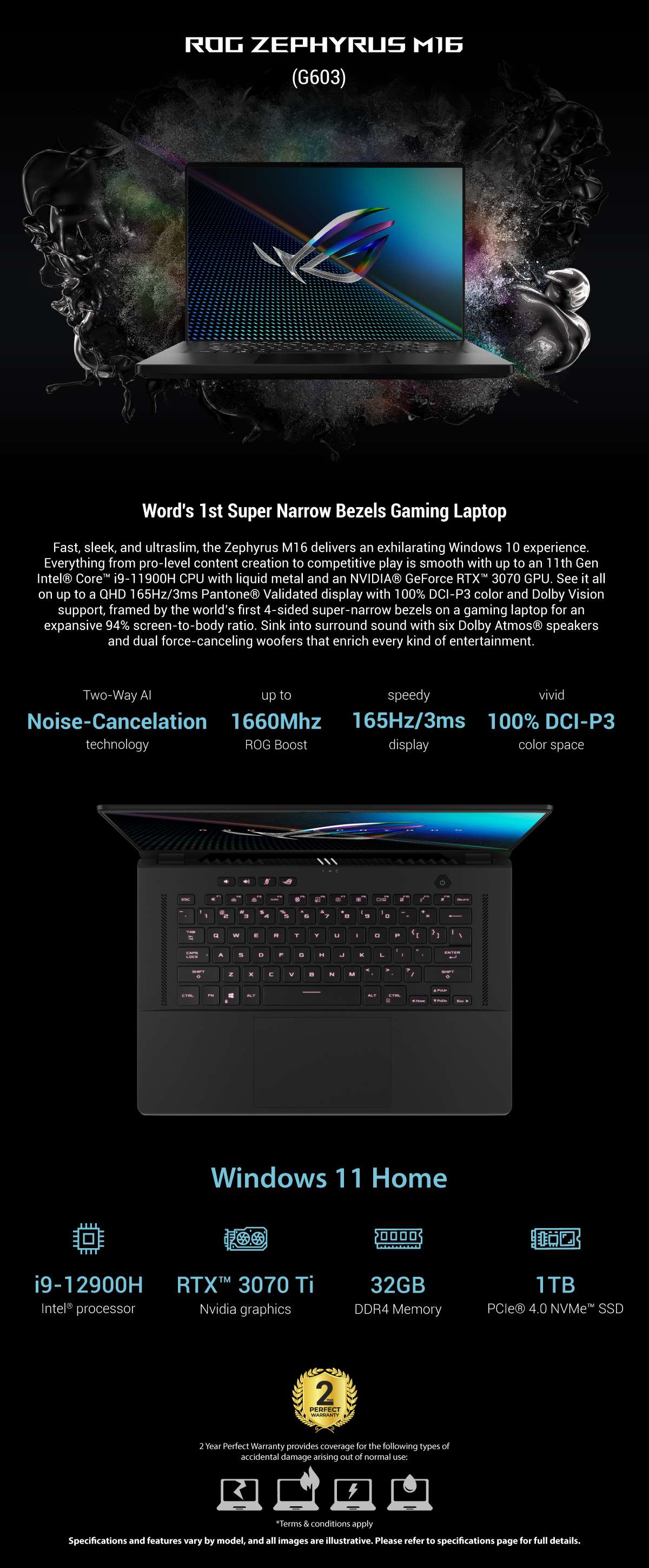 Disappear Into the Action:
The display of this device is nearly rimless, offering an impressive 94% screen-to-body ratio, which creates an immersive and deep visual experience. It excels in delivering high-FPS gameplay by striking a perfect balance between high-resolution detail and a rapid 165Hz refresh rate. You can enjoy full-spectrum color accuracy, thanks to Pantone® validation, and it covers the entire DCI-P3 color space, making it perfect for gamers who are also involved in creative work. Moreover, its tall 16:10 aspect ratio enhances your field of view, making it convenient to access critical commands.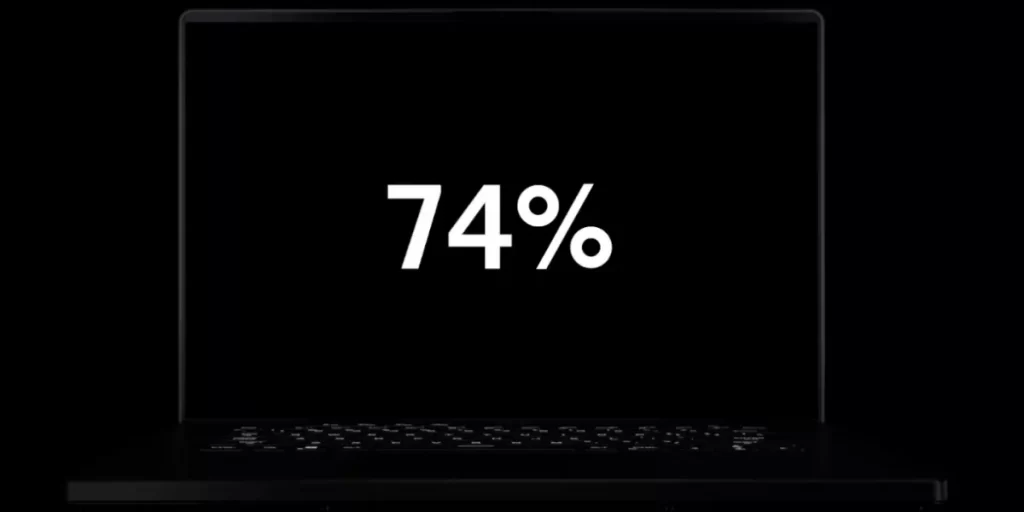 Adaptive-Sync Technology:
In-game immersion can be disrupted by stuttering and tearing, as GPUs render frames at varying rates while displays typically refresh at a fixed pace. This mismatch can lead to noticeable issues like hitching and artifacts that detract from the gaming experience. Adaptive Sync technology solves this problem by synchronizing the display's refresh rate with the GPU's frame rate, effectively eliminating visual tearing, minimizing stuttering, and reducing input lag. Prepare to enjoy gameplay that appears and feels incredibly natural.
ROG Nebula Display:
ROG's Nebula Displays are designed to provide a stunning visual experience. They offer complete coverage of the DCI-P3 color space, delivering vibrant and accurate colors, and they boast a brightness of 500 nits for a brilliant display. With high refresh rates, these displays ensure ultra-smooth motion during gaming. Features like Adaptive-Sync and quick 3ms response times maintain clear motion, while Pantone® Validation and Dolby Vision guarantee that you see content exactly as intended by its creators. Moreover, these displays are TÜV Certified for their ability to reduce blue light and flicker, making them the ultimate choice for gaming laptop displays.
Dolby Vision:
Dolby Vision enhances the visual quality of media, elevating it scene by scene and frame by frame. This technology goes beyond standard 4K high dynamic range (HDR) video by dynamically optimizing visuals, resulting in every image appearing more vibrant, brighter, and full of life. Content creators have the flexibility to shoot and edit their streams, videos, and other content using a format that is widely recognized and preferred by industry professionals.
100% DCI-P3 color:
Although the sRGB color space serves as the standard for the majority of digital visuals, it encompasses only around 75% of the broader DCI-P3 spectrum, which is commonly employed in professional filmmaking. Displays that fully cover the DCI-P3 color space provide a broad range of colors and vibrant hues, allowing you to perceive films and other media precisely as intended by the creators, delivering a truly immersive experience.
Pantone® Validated:
Attain absolute color accuracy assurance with Pantone® Validated displays. Each IPS-level panel undergoes factory calibration, ensuring that every color you observe complies with the stringent and internationally accepted Pantone® Color Validation standards. This exceptional color precision enables artists, designers, and content creators to engage in serious professional tasks while also indulging in visually enhanced gaming experiences, all on a single device.
Outperform Everyone:
In the brand-new 2022 Zephyrus M16, you'll find a harmonious blend of speed, performance, and portability. This exceptionally slim laptop packs a punch with its robust 12th Gen Intel® Core™ i9-12900H CPU and the formidable NVIDIA® GeForce RTX™ 3080 Ti Laptop GPU. Offering up to 48GB of DDR5 4800MHz RAM and up to 2TB of lightning-fast PCIe® 4.0 storage, it ensures swift performance for everyday tasks and multitasking. Additionally, it delivers rapid loading times for resource-intensive applications, making both gaming and content creation more efficient than ever before.
High-Speed Pcie® 4.0 SSD Storage:
Experience lightning-fast loading times for games, applications, and large files thanks to the ultrafast PCIe® 4.0 SSD. You'll have ample storage space with up to 2TB available, allowing you to store a wide range of creative applications, an abundance of games, and still have room for your professional portfolio. Furthermore, the second M.2 SSD slot supports PCIe® 4.0 and RAID 0, offering the flexibility to expand your storage for increased total capacity or to set up a separate scratch disk to enhance content creation speed.
Dual-Channel DDR5 Memory:
The ROG Zephyrus M16 effortlessly handles demanding multitasking tasks thanks to its potent processor and the capacity to accommodate up to 48GB of dual-channel DDR5 4800MHz memory. This high-speed RAM ensures seamless performance when juggling tasks such as streaming, content creation, and web browsing simultaneously.
12th Gen Intel® Core™ CPU:
Elevate your gaming, streaming, and content creation endeavors to a professional standard, courtesy of the 12th Gen Intel® Core™ i9-12900H CPU. These high-performance processors have been meticulously designed to bring enthusiast-level gaming experiences to smaller, sleeker, and more portable devices than ever before. With clock speeds reaching an impressive 5GHz and the ability to activate 14 cores and 20 threads, gamers and content creators alike can tap into industry-leading power to effortlessly handle even the most demanding tasks.

GeForce RTX™ 30 Series:
The NVIDIA® GeForce RTX™ 30 Series Laptop GPUs drive the fastest laptops globally, designed for both gamers and content creators. These GPUs are constructed using Ampere, which represents NVIDIA's second-generation RTX architecture, delivering the most lifelike ray-traced graphics and cutting-edge AI capabilities such as NVIDIA DLSS. Additionally, Max-Q Technologies harness the potential of AI to create slim, high-performance laptops that offer unprecedented speed and performance improvements.
BOOST PERFORMANCE WITH AI:
NVIDIA DLSS provides a performance boost to games while maintaining impeccable image quality. You can increase settings and resolution to enhance your visual experience even further without compromising performance.
MORE IMMERSIVE EXPERIENCES:
Ray tracing represents the pinnacle of graphic rendering, emulating the behavior of light in the real world to generate the most authentic and immersive graphics tailored for both gamers and content creators. Its swift performance is made possible by the second-generation RT Cores.
OPTIMIZED POWER AND PERFORMANCE:
NVIDIA Max-Q is a set of AI-driven technologies designed to optimize the performance of laptops, particularly in slim and compact form factors, while maintaining high levels of performance.
MUX switch:
Contemporary gaming laptops employ potent dedicated graphics chips to deliver top-notch performance. However, in most cases, these laptops channel the graphics frames through the CPU's integrated graphics before they are displayed. This approach helps conserve battery life but limits the GPU's ability to reach its full performance potential. To address this, we are introducing a MUX switch in all 2022 ROG laptops. For competitive gaming, you can activate a direct GPU mode through this switch, which significantly reduces latency and enhances performance by an average of 9%.
16" Display In A 15" Chassis:
Through a streamlined design, we've managed to accommodate a 16-inch display within a remarkably slim 15-inch chassis. The Zephyrus M16 is not only lighter but also smaller compared to its predecessors, with reductions of up to 5%, achieving a perfect balance of full-sized convenience and enhanced portability.
Soft-Touch Coating:
The palm rest is coated with a soft-touch paint that effectively reduces smudges and fingerprints. This thin coating plays a crucial role in preserving the laptop's sleek design and subtle sheen, ensuring it looks great throughout the entire day.
Prismatic shine:
The lid features a dot matrix design created through a precise CNC milling process, resulting in 8279 closely spaced perforations. Underneath this pattern, a prismatic film adds a subtle shimmering effect that contrasts beautifully with the bold "Off-Black" color scheme.
Intelligent Cooling Improves Your Experience:
The CPU stays cool thanks to the use of Liquid Metal thermal compound, and the Arc Flow Fans™ have been redesigned with 84 blades to efficiently produce airflow while keeping noise to a minimum. The ROG Armoury Crate software allows for effortless switching between various operating modes, ensuring that performance and acoustics are optimized according to the specific task you're working on.
Sink Into Sublime Sound:
The ASUS ROG Zephyrus M16 simplifies streaming, recording, and gaming with its versatile audio system. Featuring Dolby Atmos® technology, this system includes twin tweeters and dual force-canceling woofers that deliver perfectly balanced audio. Additionally, there's a customizable 3D microphone array for capturing audio in different scenarios. Furthermore, Two-Way AI Noise Cancelation enhances the clarity of sound from your own audio feed and incoming audio feeds.
Dual Force-Canceling Woofers:
Woofers are responsible for generating the low frequencies that give depth and richness to your audio, enhancing the overall sound experience. These low-frequency sounds often produce pronounced vibrations. To reduce resonance within the compact chassis of the Zephyrus M16, woofers are strategically positioned in pairs with a slight offset from each other. This arrangement effectively cancels out the vibrations produced by the woofers.
3D Mic Array:
The integrated microphone array offers three distinct modes, providing you with enhanced control over your audio input. Cardioid mode is optimized for capturing sound directly in front of the laptop while minimizing input from the rear, making it perfect for streaming and gaming. Stereo mode utilizes both right and left channels to capture a broader audio landscape, ideal for live music performances or other immersive scenarios. Omnidirectional mode evenly captures sound from all directions, ensuring clear and balanced audio during group conference calls.
Lighter. Slimmer. More Portable:
Game, stream, and code from anywhere with ease. The ultrafast Thunderbolt™ 4 connectivity allows you to swiftly connect to the latest devices, such as robust external GPUs or docking stations, while Type-C charging enables you to recharge using portable power packs, eliminating the need to hunt for an outlet when your battery is running low. Enjoy up to 10 hours of battery life, allowing you to disconnect and relax without worrying about power. Additionally, you can maintain a stable connection even in busy networks with the help of WiFi 6E.
A Stroke Of Genius:
Stay discreet with the new Stealth Type keyboard, which operates quietly with keystrokes registering at under 30dB. Execute complex commands swiftly with N-key rollover, guaranteeing that every keypress is accurately recognized. The Overstroke technology reduces the actuation point of each key, making input effortless and responsive. Furthermore, navigation becomes more precise and convenient with a touchpad that is not only 20% larger than the previous generation but also more accurate, ensuring precise navigation is at your fingertips.
Comprehensive Connectivity:
A range of I/O ports ensures that you remain connected and productive regardless of your location. The highly versatile Thunderbolt™ 4 port, equipped with DisplayPort 1.4 and Power Delivery 3.0 capabilities, is complemented by two USB 3.2 Type-A ports for connecting a gaming mouse, gamepad, and various other accessories. Additionally, there's a microSD slot that simplifies the workflow for creators, allowing them to capture, edit, and process large images and videos conveniently from anywhere.
| | |
| --- | --- |
| Brand | ASUS |
| | ROG Zephyrus M16 GU603ZW-K8069W |
| | |
| Processor | |
| Processor Generation | |
| | 2.5 GHz (24M Cache, up to 5.0 GHz, 14 cores: 6 P-cores and 8 E-cores) |
| | NVIDIA® GeForce RTX™ 3070Ti 8GB |
| Video graphics Memorey | |
| RAM | 32GB 16GB DDR5 on board 16GB DDR5-4800 SO-DIMM |
| | 1TB PCIe® 4.0 NVMe™ M.2 Performance SSD |
| Display | ROG Nebula Display 16-inch QHD+ 16:10 (2560 x 1600, WQXGA) IPS-level Anti-glare display DCI-P3: 100% Refresh Rate: 165Hz Response Time: 3ms Adaptive-Sync Pantone Validated MUX Switch + Optimus Support Dolby Vision HDR : Yes |
| Display Resolution | |
| Display Refresh Rate | |
| Operating System | |
| | RGB backlit Chiclet keyboard |
| Battery | 4S1P 4-cell 90Wh lithium-ion battery |
| Webcam | 720P HD IR Camera for Windows Hello |
| Connections | 1x 3.5mm Combo Audio Jack 1x HDMI 2.0b USB 3.2 Gen 2 Type-C port for plug-and-play/Power Delivery support 2x USB 3.2 Gen 2 Type-A 1x RJ45 LAN port 1x Thunderbolt™ 4 support DisplayPort™ / power delivery |
| Dimensions | |
| Weight | |
| Colors | |
| Warranty | |